Bridgeport, CT — Congressman Himes is proud to release an outline of his 2019 work in Congress for residents of Connecticut's Fourth District.
"This Democratic-majority House told the American people we would lower prescription drug costs, establish universal background checks, ensure equal pay for equal work, protect pre-existing conditions in healthcare coverage, raise the minimum wage and address climate change," said Himes. "We delivered on those oaths."
"Many of these bills that help American families and Connecticut residents are still sitting on Senator Mitch McConnell's desk, but I will keep fighting to make these pieces of legislation a reality," Himes continued. " For me, this year has been about getting results for the people of the Fourth District."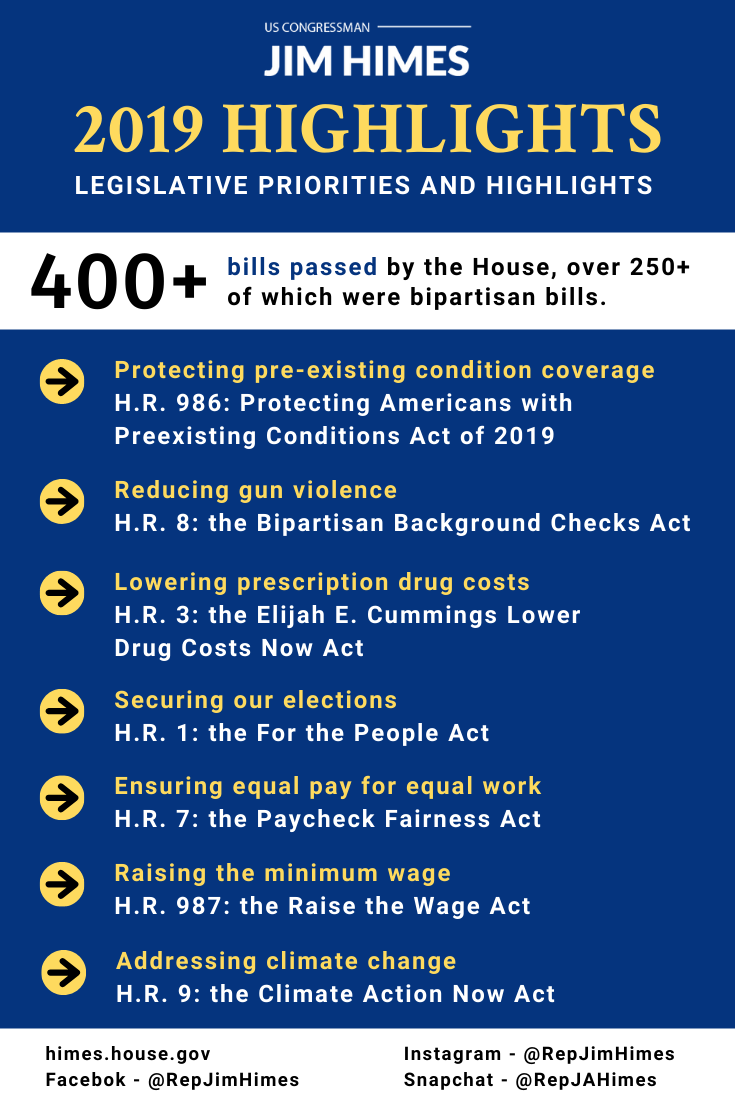 Advancing Fourth District Priorities
Most recently, the House passed strong appropriations victories that helps Connecticut families, focuses on Fourth District priorities, and keeps the government open. The spending agreement:
Boosts Connecticut's economy – Supports more than $12 billion of funding for submarine construction and investment, addresses the crumbling foundations crisis and supports workforce training and development programs in Connecticut.
Funds gun violence research - Secures $25 million for gun violence research at the CDC and NIH for the first time in more than 20 years.
Invests in K-12 education – Increases funding for Title I Grants to local educational agencies by $450 million, and boosts IDEA Grants to states by $400 million, which will help schools in Connecticut and across America.
Repeals the "Cadillac Tax" – Permanently repeals the excise tax on health insurance plans.
Invests in election security – Secures $415 million for election security grants to protect our election from both foreign and domestic attacks.
I was also proud to vote for the bipartisan Traced Act to crack down on illegal robocalls.
Promises Kept
This year alone, the House passed over 400 pieces of legislation, with over half of those bills garnering bipartisan support.
H.R. 1 For the People Act

H.R. 3 Elijah E. Cummings Lower Drug Costs Now Act

H.R. 4 Voting Rights Advancement Act of 2019

H.R. 5 Equality Act

H.R. 6 American Dream and Promise Act of 2019

H.R. 7 Paycheck Fairness Act

H.R. 8 Bipartisan Background Checks Act of 2019

H.R. 9 Climate Action Now Act

H.R. 986 Protecting Americans with Preexisting Conditions Act of 2019

H.R. 987 Raise the Wage Act

SALT Cap Partial Repeal

USMCA
The House of Representatives also recently passed Rep. Himes' bill, The Insider Trading Prohibition Act by an overwhelming bipartisan vote. This bill clarifies our federal finance law and makes sure there are no unfair advantages in our markets.