Himes Advances Fourth District Priorities in 2019
Bridgeport, CT — Today, Congressman Jim Himes (CT-04) released a wrap up of 2019 outlining his work for residents of Connecticut's Fourth District:
"I am extremely proud of the work my office accomplished for the residents of Southwest Connecticut this year. Our work is driven by what I hear from constituents at town halls, roundtable events, local meetings and business visits," said Himes. "Listening to, and meeting with, my constituents makes me a better representative and I look forward to continuing to serve the Fourth District in 2020."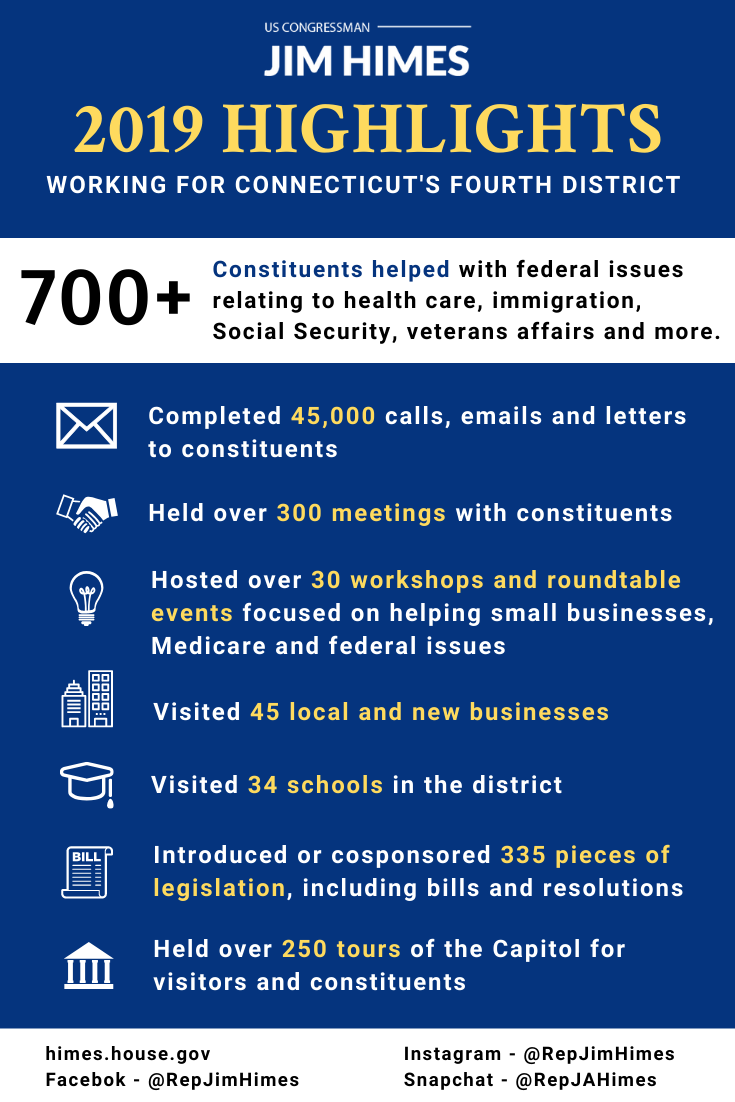 Fourth District Highlights
Town Halls
Across the district at several town halls, I heard from hundreds of constituents about issues affecting their everyday lives from healthcare to taxes; Social Security and Medicare to climate change and more.
Workshops and Roundtables
My office hosted a series of over 30 workshops and roundtables this year focused on helping small businesses grow, combating Medicare scams targeting our seniors, and ensuring the upcoming elections are secure.
Congressional Art Competition
Students from across the district came together to showcase their artistic abilities through this annual challenge sponsored by the U.S. House of Representatives. Congratulations again to Ivy Zingone of Stamford High School for her winning piece Counting Screens.
Congressional App Challenge
For the third year, we had a record number of applicants for the Congressional App Challenge that displays coding and creative talent from our students. This year's winner is Wilton High School student Avni Gupta and her app, the Food Allergy Scanner.
Jim on Your Job
My "Jim on Your Job" series allows me to spend time hearing from workers about their daily lives and responsibilities, and learning how I can support these businesses from my seat in Congress. From learning how to deliver pizza, how to help out backstage and how to release a red hawk into the wild,  I am constantly looking for new opportunities to learn more from local businesses through "Jim on Your Job."
Constituent Assistance Highlights
My staff and I were pleased to help over 650 constituents with cases and issues involving the Social Security Administration, immigration, and veterans' affairs this year, and you can read a number of this year's success stories here. Individuals' names have been changed for privacy.
New Businesses and Local Outreach
I had the honor of visiting many new and local businesses. Further, I joined many of them as they announced expansions in the district this year. These new and growing businesses and our small business community are vital to the success of the Fourth District and I am proud of our growth this year.
Federal Grants to Assist Connecticut
My office assisted with a number of federal grants to help Fourth District constituents and Connecticut residents this year.
Homeslessness Prevention
$3 million awarded to Opening Doors of Fairfield County from the U.S. Department of Housing and Urban Development to develop a strategic plan to prevent and end youth homelessness in Fairfield County.
Environment
$2.6 million to continue to improve the health of the Long Island Sound by supporting projects to improve water quality, restore habitats and enhance the resiliency of the coastline to storms.
First Responders
$200,000 awarded to the Fairfield Fire Department to protect the health and safety of the public and firefighting personnel against fire and fire-related hazards.
School Safety
$500,000 for the Stamford school system to fund school security and a visitor management system to track and screen people entering our local schools.
Job Training
$1.5 million for The Workplace to support efforts of job skills training for seniors and disadvantaged youth throughout Southwest Connecticut.